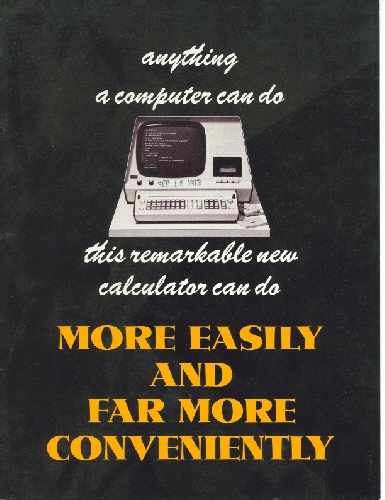 Title
Anything a Computer Can Do this Remarkable New Calculator Can Do More Easily and Far More Conveniently.
Date
1973
Publisher
Wang Laboratories, Inc.
Place of Publication
U.S.
Identifying Numbers
| | |
| --- | --- |
| Other number | 7000586 |
| Other number | 7000787A |
| Other number | 7003042 |
Extent
15 p.
Dimensions
11 1/8 x 8 5/8 in.
Copyright Holder
Wang Laboratories, Inc.
Description
The brochure introduces the 2200 as the first programmable calculator using BASIC as the keyboard programming language. The brochure is printed in black, yellow, and red on white glossy paper and includes 3 loose, inserted pages that are hole punched for a 3-ring binder. Black and white photographs of the 2200 are displayed on both front and back covers with the front cover having a black background and the back cover a white. Pages with black, white, and yellow backgrounds continue throughout the inside. The date "Sep 12, 1973" is stamped in the middle of the front cover and "own mini 4-32K mini came from Wang 3300" is hand printed in blue ink in the upper left corner of the back cover. Black and white photographs of the 2200 and peripherals, close up photographs of the display screen and the keyboard, and lists of commands and features cover the inside pages. Text contents include: Model 2200 advanced programmable calculator; Another "first" in calculator design...by Wang; Speed and accuracy. Simplicity and flexibility. Editing and correcting. Loading and chaining. Processing of data files. All are yours in the Wang Basic 2200; With the 2200 comes a keyboard providing one of the most useful assemblages of single-keystroke commands ever designed. Here is a concise description; More desirable features than you'll find on equipment at more than double the price. The 3 loose pages provide additional information. The Data Sheet features the Model 30 Fixed-Removable Disk Drive and includes a black and white photograph. The Price List provides prices for the entire series of 2200 Advanced Programmable Calculators and has notes handwritten in pencil at the top edge. Another page features the Wang Model 721 high speed printer and gives specifications.
Category
Promotional Material
Subject
Wang Laboratories, Inc.; Business applications; BASIC (Software); Calculator: programmable; Model 2200 (Computer); promotional materials; Scientific applications
Credit
Gift of Thomas J. Buckholtz and Helen T. Buckholtz