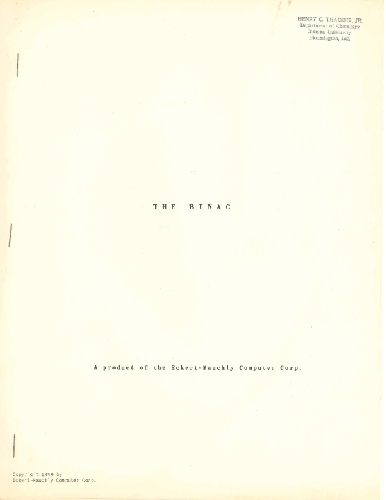 Title
The Binac: A Product of the Eckert-Mauchley Computer Corp.
Description
The brochure is printed on plain white paper in the form of a scholarly paper discussing the Binac computer and was staped together in 3 places down the left side. The front cover is the title page and has the name Henry C. Thacher, Jr. Department of Chemistry, Indiana Unviersity, Bloomington, Ind. stamped in the upper right corner. Inside is a full page diagram of the Binac, a list of instructions, and a table converting decimal numbers to binary code. Text contents include: Binac statistics; The Binac--general characteristics; Elements of the Binac System; Binac instructions; Conversion table.
Date
1949
Publisher
Eckert-Mauchly Computer Corporation (EMCC)
Extent
7 p.
Dimensions
8 1/2 x 11 in.
Copyright Holder
Eckert-Mauchly Computer Corporation (EMCC)
Category
Promotional Material
Subject
Military/Aerospace applications; Digital computer: mainframe; Eckert-Mauchly Computer Corporation (EMCC); BINAC (computer); promotional materials