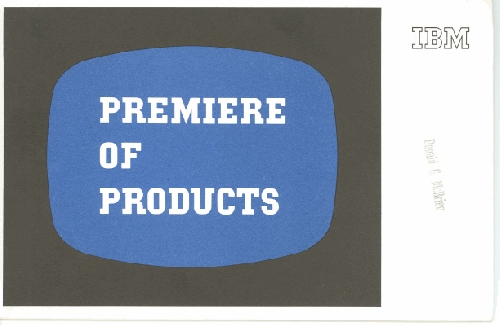 Title
Premiere of Products
Date
1959-10-05

International Business Machines Corporation. Data Processing Division. (IBM)

U.S.

16 p.

5 1/2 x 8 1/2 in.
Copyright Holder
International Business Machines Corporation (IBM). Data Processing Division
Description
The brochure introduces several IBM data processing systems, incuding the IBM 1401, The IBM 357, the RAMAC 305, and the IBM 7070, with each system's salient features summarized on individual cards. The brochure is printed in blue and black on white paper with the cards showing black and white photographs of the featured computer on a blue background. The cards fit into a pocket provided in the jacket. The reverse side of each card summarizes the features of each computer. The company logo shows on the front and back covers of the jacket. The name, Donald G. McBrien, is stamped on the front cover at the right edge. Text contents include: An IBM presentation... featuring the latest additions to IBM's balanced line of data processing products; IBM 7070--1401 balanced data processing systems; IBM 1401 data processing systems; Increased processing speed for the RAMAC 305; The IBM 1401 tape system; The IBM 1404 card system; The IBM 357 data collection system; Of special interest to the banking industry:.
Category
Promotional Material
Subject
IBM 7070 (Computer); Business applications; RAMAC 305 (Computer); IBM 357 Data Collection System (Computer); Digital computer: mainframe; Scientific applications; IBM 1401 Data Processing System (Computer); Memory: disk; promotional materials; International Business Machines Corporation (IBM). Data Processing Division