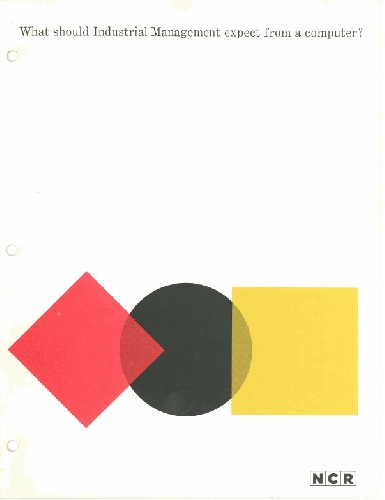 Title
What should Industrial Management expect from a computer?
Description
The brochure discusses the benefits a computer affords to management and goes on to present the NCR 315 as a versatile management tool. The brochure is printed in orange, yellow, and black on white glossy paper and is hole punched for placement in a 3-ring binder. The front cover shows a geometric design of squares and circles in orange, black, and yellow with the company logo on both front and back covers. Continuing throughout the inside pages, the geometric motif is used to illustrate flowcharts and graphs of business decision making processes and black and white photographs of people working in business settings. The NCR 315 computer is displayed with people at work in a full page black and white photograph on the back inside cover. Text contents include: Management today must concern itself with many factors; Maximum profits are the reflections of good plans, properly implemented; Good plans are a reflection of accurate evaluations concerning many inter-related factors; To be effective, plans must be properly implemented; To obtain maximum profits, management must have facts in time to use them most effectively; Worthy of investigaton: NCR 315 computer featuring CRAM (Card Random Access Memory).
Date
1960
Publisher
National Cash Register Company (NCR)
Place of Publication
U.S.
Identifying Numbers
| | |
| --- | --- |
| Other number | D27QQQ |
| Other number | SP1556 |
Extent
10 p.
Dimensions
10 7/8 x 8 3/8 in.
Copyright Holder
National Cash Register (NCR)
Category
Promotional Material
Subject
Business applications; Digital computer: mainframe; NCR 315 Computer System (Computer); National Cash Register (NCR); promotional materials
Credit
Gift of Thomas J. Buckholtz and Helen T. Buckholtz