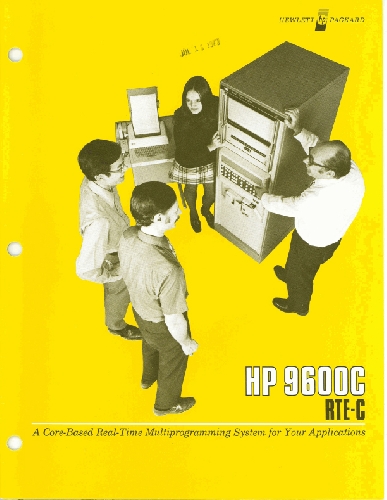 Title
HP 9600C RTE-C: A Core-Based Real-time Multiprogramming System for your Applications.
Date
1973-03
Publisher
Hewlett-Packard Company (HP)
Place of Publication
U.S.
Extent
14 p.
Dimensions
11 x 8 1/2 in.
Copyright Holder
Hewlett-Packard Company (HP)
Description
The brochure introduces the HP 9600C RTE-C as a system that handles real-time operations. The brochure is printed in yellow and green on white paper and hole punched for placement in a three-ring binder. The front cover has a yellow background, the date Jul 13 1973 stamped at the top, and shows a black and white photograph of people using the computer. The yellow background extends to the back cover, which also provides information about customer training and support and the company logo and address. Throughout the inside pages are black and white photographs, some full page, of people using the computer in various settings: industrial, academic, research, and business. Diagrams, charts, and tables throughout provide information about the 9600C including program scheduling, core allocations, peripherals and subsystems. Text contents include: The HP9600C in research and development; The HP9600C in sensor-based industrial testing; The HP9600C in the university lab; Total control by the user; Uses a rugged, reliable systems computer...;Whose memory becomes intelligent...; Intelligence applied to interrupt and input/output processing and system protection; Capabilities and growth potential; System software; Supported by...; The next step....
Category
Promotional Material
Subject
Software; Assembly Language (Software); Hewlett Packard (HP); FORTRAN (Software); Digital computer: minicomputer; Business applications; HP 9600C RTE-C (Computer); promotional materials; Educational applications
Credit
Gift of Thomas J. Buckholtz and Helen T. Buckholtz