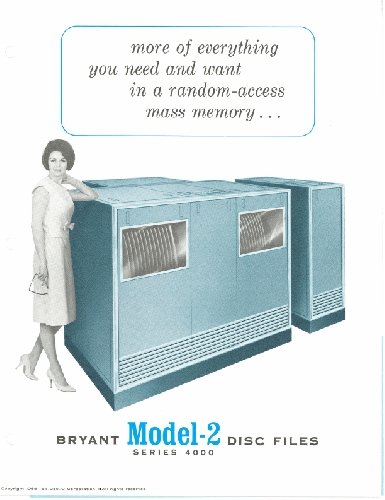 Title
Bryant large disk drive
Description
The brochure describes improvements in the Bryant Model-2 Series 4000 Disc Files over the original Bryant Series 4000 random-access mass memories. The front cover of the brochure shows blue and white photograph of the Model-2 Series 4000 against a white background with the text: More of everything you need and want in a rendom-access mass memory...The back cover shows drawings of the physical spedifications, a table explaining the characteristics of the Bryant Model-2 Series 4000 Disc Files, a black and white photograph of a person working at the Model-2, and the Bryant Computer Products logo and contact information at the bottom. The centerfold opens out to 3 pages of charts, graphs, tables, photographs, and text. Text contents include: New programming flexibility! new dual/rapid random access! new on-line maintainability! new long-term reliability! new lower cost per bit!; File organization--"Drum Mode" concept and dual/rapid random access provide maximum programming flexibility. The brochure is hole punched for a 3-ring binder.
Date
1965-06-15
Publisher
Ex-Cell-O Corporation
Place of Publication
U.S.
Extent
4 p.
Dimensions
11 x 8 1/2 in.
Copyright Holder
Ex-Cell-o Corporation
Category
Promotional Material
Subject
promotional materials; Ex-Cell-O Corporation; Business applications; Bryant Computer Products; Bryant Model-2 Series 4000 Disc Files (computer memory disk); Memory: disk; Early disk storage; Business; mechanical