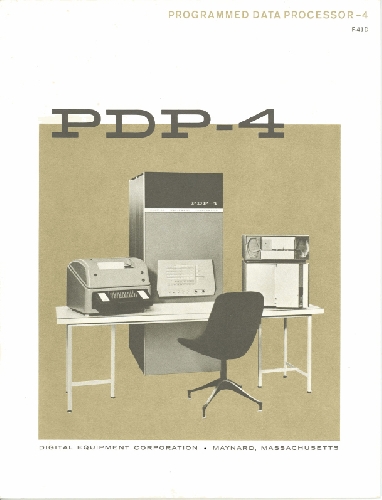 Title
Programmed Data Processor - 4
Description
The brochure's front cover shows a black and white photograph of the PDP-4 comupter on a white background; the back cover shows DEC's logo. Black and white photographs of the PDP-4 are throughout the brochure as are charts showing the system architecture. Text contents include: Standard PDP-4; Central processing options; Real time control; Input-output options; Programming aids.
Date
1963-09
Publisher
Digital Equipment Corporation (DEC)
Place of Publication
U.S.
Extent
14 p.
Dimensions
11 x 8 1/2 in.
Copyright Holder
Digital Equipment Corporation (DEC)
Category
Promotional Material
Subject
promotional materials; Digital Equipment Corporation (DEC); Scientific applications; Software; Digital computer: minicomputer; FORTRAN II (Software); PDP-4 (Computer); Graphics applications
Credit
Gift of Thomas J. Buckholtz and Helen T. Buckholtz