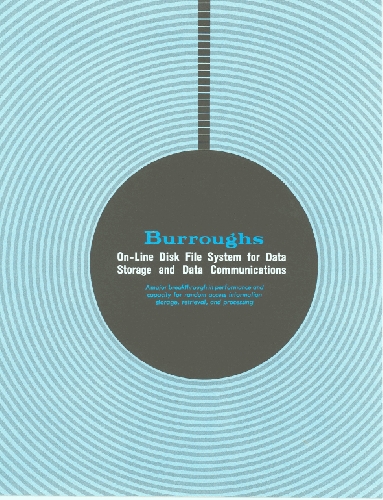 Title
Burroughs On-Line Disk File System for Data Storage and Data Communications
Description
Four color brochure for the Burroughs On-Line Disk File System for Data Storage and Data Communications. The front cover has a series of grey concentric circles on a blue background. In the center is a black circle with the title in white. The sub-title, in blue, is written below and says, "A major breakthrough in performance and capacity for random access information storage, retrieval, and processing." Color and black and white images throughout the brochure show people, mostly women, either posing next to or working with the Disk File System. The B 5000 Information Processing System is pictured as is the B 280 Punched Card/Magnetic Tape EDP System. Small yellow free floating insert from the Vice President of Marketing thanking the customer for requesting information.
Date
1962
Publisher
Burroughs Corporation
Place of Publication
U.S.
Identifying Numbers
| | |
| --- | --- |
| Other number | 10001 |
| Other number | 3-8-6 |
Extent
6 p.
Dimensions
10 7/8 x 8 1/2 in.
Copyright Holder
Burroughs Corporation
Category
Promotional Material
Subject
promotional materials; Ken T. Bement, Vice President, Marketing; Business applications; Burroughs On-Line Disk File System; Burroughs Corporation
Credit
Gift of Thomas J. Buckholtz and Helen T. Buckholtz