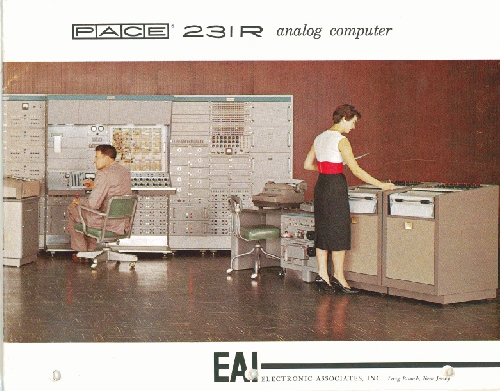 Title
Pace 231R Analog Computer
Description
Four color brochure for the EAI Pace 231R analog computer. The front cover has the title on the top, below which is a picture of the computer with a seated man on the left and a standing woman on the right. Both are actively engaged with the computer. The logo for EAI is on the bottom right. An introduction on page 2 is followed by a list of "Experience Proven Features" and "New Advances." System specifications are listed. The center of the brochure contains a fold up panel which, when opened, has a full color image of a circuit board. Following the foldout is a section on ADIOS (Automatic Digital Input Output System.) A two page section on the readout equipment contains images of each piece of equipment and a write up below each image. The equipment listed includes the electronic digital voltmeter, high speed printer, table-top variplotter, rectilinear recorder and transistorized variplotter. The inside back cover has a large black and white image of EAI headquarters in Los Angeles, New Jersey, Princeton and Brussels. Images of the computer, its components, and people working with the computer, are scattered throughout the brochure. Most are black and white, except for a color image on page 5 and the color foldout.
Date
1961
Publisher
Electronic Associates, Inc. (EAI)
Place of Publication
U.S.
Extent
23 p.
Dimensions
8 1/2 x 10 7/8 in.
Copyright Holder
Electronic Associates, Inc. (EAI)
Category
Promotional Material
Subject
promotional materials; Scientific applications; Analog computer; Pace 231R (Computer); Electronic Associates, Inc. (EAI)
Credit
Gift of Thomas J. Buckholtz and Helen T. Buckholtz