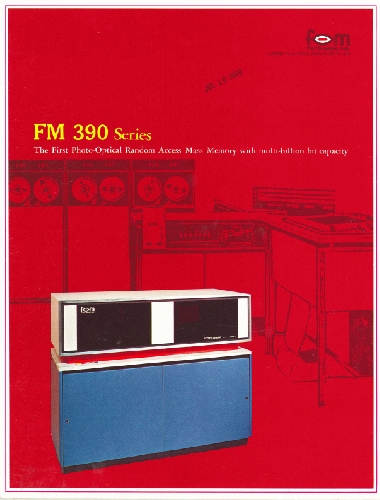 Title
FM 390 Series: The first Photo-Optical Random Access Mass Memory with multi-billion bit capacity.
Description
The brochure's front cover shows a full page, combined color photograph and drawing of the FM 390 Series on a red background. The brochure folds out to display on the front and back sides a diagram of the system components, a color photograph of the computer, and a half page, mailable postcard, titled Action Request, on which the user inserts name, address, and technical requirements. Text contents include: System advantages; FM-390 system components; Operating the FM-390; Applications; Typical applications-sales or service; Specifications; Ordering information. A receipt stamp, dated July 10, 1969, is located on the upper right of the front cover.
Date
1969
Publisher
Foto-Mem. Inc.
Place of Publication
U.S.
Extent
6 p.
Dimensions
11 x 8 1/2 in.
Copyright Holder
Foto-Mem. Inc.
Category
Promotional Material
Subject
promotional materials; Foto-Date Cell (software); Foto-Mem. Inc.; Memory: optical; Photo Data Card (software); FM 390 (computer); Business applications
Credit
Gift of Thomas J. Buckholtz and Helen T. Buckholtz