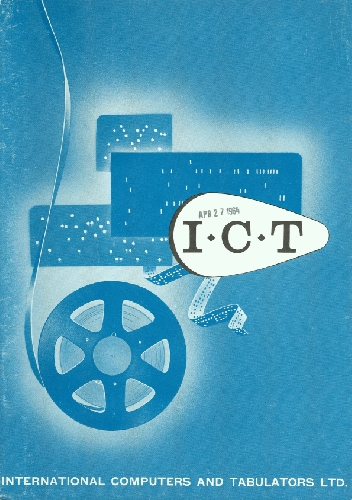 Title
International Computers and Tabulators LTD.
Date
1964
Publisher
International Computers and Tabulators, Limited (ICT)
Place of Publication
U.K.
Identifying Numbers
| | |
| --- | --- |
| Other number | 115 |
| Other number | 195 |
Extent
37 p.
Dimensions
11 6/8 x 8 1/2 in.
Copyright Holder
International Computers and Tabulators, Limited (ICT)
Description
This brochure is a collection of promotional materials from ICT, made up of 2 brochures and 13 individual pages collected in a pocket folder jacket. The jacket is two colored, blue and white, with black print. The front cover shows drawings of punch cards and a reel of magnetic tape. The back cover folds out to provide ICT information under subheadings: Organization; Computers; Punched card equiprment; Peripherals; World-wide operations. On the cover of the jacket and on the front of each page is stamped the date of receipt: April 27, 1964. The first brochure, titled ITC The 21 Column Range of Punched Card Accounting Machines, describes in 6 pages the 21-column punched-card equipment offered by ICT: the Automatic Key Punch; the Sorter; the Tabulator; the Tape-to-Card Translator; the Reproducing Punch' and the Collator. The front and back covers have red background and black and white print. The inside back cover lists the cmpany offices through the U.K. and internationally. Black and white photographs throughout display the machines. In the 2nd brochure, titled Type 36 Automatic Key Punch: 80-column punched card data processing, the Type 36 automatic key punch is described in 2 pages showing black/white and black/pink photographs of the machine and listing the capabilities. The background of the front cover is purple, with a black, white, and purple design. The back cover shows the company offices through the U.K. and overseas. The 13 individual pages feature computers designated by type, all being 40-column and 80-column punched card data processing machines and electronic data processing machines. Each page shows a computer in a color photograph on the front side with text explaining its capabilities. Some have black/white photographs of the computer on the back side with text overflowing from the front. The machine types featured are: Sorter; Summary card punch; Tabulator; Interpreter; Collator; Electronic calculator; High speed sorter; Reproducing punches; Automatic verifier.
Category
Promotional Material
Subject
promotional materials; Electronic Calculator Type 550/2 (computer); High Speed Sorter Type 313 (computer); Summary Card Punch Type 262 (computer); Collator Types 372, 365, 368 (computers); Interpreter Types 424, 442 (computers); I/O: punched card; Reproducing Punches Types 203, 208 (computers); International Computers and Tabulators, Limited (ICT); Automatic Verifier Type 129 (computer); Sorter Type 327 (computer); Automatic Key Punch Type 36 (computer); Tabulator Types 816, 906, 915 (computers)