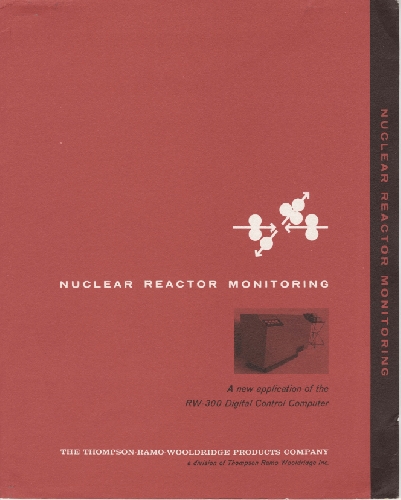 Title
Nuclear Reactor Monitoring: A New Appliation of the RW-300 Digital Control Computer
Date
1962 ca.
Publisher
Thompson Ramo Wooldridge, Inc. (TRW)
Extent
9 p.
Dimensions
11 1/2 x 9 1/4 in.
Copyright Holder
Thompson Ramo Wooldridge, Inc. (TRW)
Description
The brochure houses a paper titled "Nuclear Reactor Monitoring: An application of the RW-300 Digital Control Computer" that was stapled onto the back cover at the upper left corner. The paper is formatted in an academic style with a title page and full page, labeled diagrams showing schematics of the RW-300. The front cover of the brochure is red and shows a black and white photograph of the RW-300 and an abstract, geometric design of circles and arrows; the back cover is white. Text contents include: Ruptured fuel element detection system; Other nuclear applications of the RW-300.
Category
Promotional Material
Subject
Military/Aerospace applications; Fixed-application digital computer: industrial; Thompson Ramo Wooldridge, Inc. (TRW); RW-300 Digital Control Computer (Computer); promotional materials
Credit
Gift of Thomas J. Buckholtz and Helen T. Buckholtz