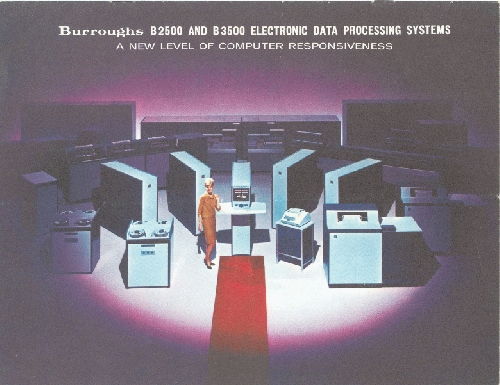 Title
Burroughs B2500 and B3500 Electronic Data Processing Systems. A New Level of Computer Responsiveness.
Description
The brochure cover shows the Burroughs B2500 and B3500 electronic data processing system under a spotlight with a red carpet leading up to it. The background is purple. The back cover and pages throughout have a white background with the exception of one green double page. The first inside page folds out. Throughout the brochure color photographs display people using the computers in different office settings. Diagrams explain the system's general architecture. Text contents include: Burroughs B2500 and B3500 electronic bata processing systems; Low cost, high performance, responsiveness to change...results of a better way to build computers; The Burroughs B2500 and B3500 have the following characteristics; Organization of the Burroughs B2500 and B3500; A broad range of input/output and data communications devices; and Software...full partner in computer power and responsiveness. Burroughs company logo is displayed on the center of the back cover at the bottom.
Date
1966-03
Publisher
Burroughs Corporation
Place of Publication
U.S.
Extent
8 p.
Dimensions
8 3/8 x 11 7/8 in.
Copyright Holder
Burroughs Corporation
Category
Promotional Material
Subject
promotional materials; Software; COBOL (Software); FORTRAN (Software); Digital computer: mainframe; Business applications; Burroughs B3500 (Computer); Burroughs B2500 (Computer); Burroughs Corporation