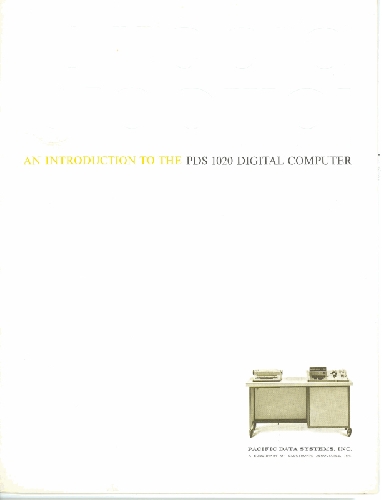 Title
An Introduction to the PDS 1020 Digital Computer
Description
A four color brochure for the PDS 1020. The cover features raised binary lettering over the title "An Introduction to the PDS 1020 Digital Computer." A picture of the 1020 is included in the bottom right-hand corner of the cover, over the name "Pacific Data Systems, Inc. - A Subsidiary of Electronic Associates, Inc. There are pages made of tissue with binary print on the inside front and back covers. The subsections include "The PDS 1020 - A competitive necessity;" "Advantages of the PDS 1020;" "The PDS 1020 - not just another computer;" "The PDS engineering interpreters - the solution to the man/computer communications barrier;" and "Specifications." There are several black and white pictures of the 1020 included in the brochure. On page 5, pictures of the 1020's console, paper tape recorder, and circuit board are featured. The inside cover is a photograph of a woman curled up on top of the 1020, holding a single rose. The inside back cover mirrors this picture, showing the 1020 as a work station, with the rose in a vase. Examples of the 1020's engineering capabilities are featured on page 7, with four graphs created on the 1020. The back cover lists information about demonstrations of the 1020. Technical specifications are included in the brochure. Two business reply cards are included with the brochure, one of which is addressed to Mr. Thomas Buckholtz of the California Institute of Technology.
Date
1964
Publisher
Pacific Data Systems, Inc.
Place of Publication
U.S.
Identifying Numbers
| | |
| --- | --- |
| Other number | PDS 1020 366 |
Extent
10 p.
Dimensions
11 x 8 1/2 in.
Copyright Holder
Electronic Associates - Inc.
Category
Promotional Material
Subject
promotional materials; PDS 1020 (Computer); Scientific applications; Pacific Data Systems, Inc.; Electronic Associates, Inc.; Digital computer
Credit
Gift of Thomas J. Buckholtz and Helen T. Buckholtz