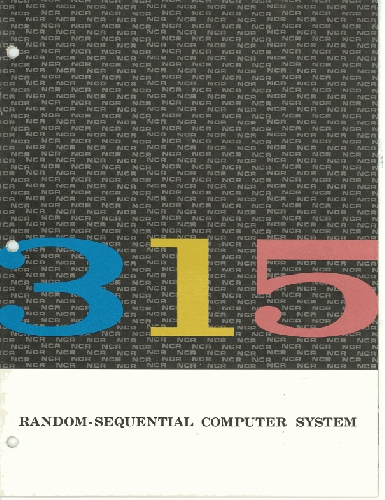 Description
The brochure presents the NCR 315 as a low cost, high performance computer. The front cover folds out to 3 pages with a color photograph of people working at the NCR 315 on the inside. The front and back covers have a repetitive NCR pattern in black and white, with the front fold out pages showing a broad black band across the white background. The company logo is on the back cover. Throughout the inside pages are full page black, white, and color photographs of people and computer hardware, labeled diagrams of computer components, and abstract repetitive patterns. Text contents include: CRAM Card Random Access Memory...an NCR exclusive; The NCR 315 provides a practical price-performance ratio; CRAM a unique magnetic file system; CRAM...a flexible, economical magnetic file system; Unique systems expansibility; Complete system balance; Why management should investigate the NCR 315; Substantial savings through reduced programming time; At your service.
Date
1962
Publisher
National Cash Register Company (NCR)
Place of Publication
US
Identifying Numbers
| | |
| --- | --- |
| Other number | K21PPP |
| Other number | SP-1544 |
Extent
22 p.
Dimensions
10 7/8 x 8 3/8 in.
Copyright Holder
National Cash Register Company (NCR)
Category
Promotional Material
Subject
promotional materials; Memory: other; Digital computer: mainframe; National Cash Register Company (NCR); NCR 315 (Computer); Failures; Electronic; mechanical
Credit
Gift of Thomas J. Buckholtz and Helen T. Buckholtz