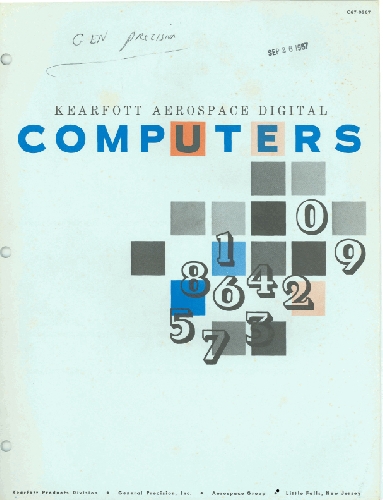 Title
Kearfott Aerospace Digital Computers
Date
1967-05-01

General Precision, Inc.

U.S.

22 p.

11 x 8 1/2 in.
Copyright Holder
General Precision, Inc.
Description
This brochure features the Kearfott Aerospace digital computers for military applications, such as missile and aircraft navigation, command, and control. The brochure is printed on light blue paper and hole punched for a 3-ring binder. The front and back covers have abstract geometric designs of colored squares and circles with numbers, the back cover showing the company logo and domestic offices. A date stamp, Sep 26, 1967, is at the top right hand corner; Gen Precision, underlined, is hand written in ink at the top left corner. Hand drawn, pencil markings point to, underline, and circle text on various pages throughout the brochure. H.Peck 1940 S. Figueroa is hand written in ink on the bottom of the back cover. Throughout the inside pages are tables of information, charts, graphs, abstract drawings, artists' renditions of the cosmos, and black and white photographs of computer hardware and military installations. Text contents include: GPK-20 computer; Micro-Minac computer; GPK-10 low cost GP digital computer; Features...; GPK-33 Atlas/Centaur navigation computer; AN/ASN-24(V) airborne/aerospace computer set; AN/ASN-24(G) airborne/aerospace computer set; L-90 Series general-purpose digital computers; Reiteration.
Category
Promotional Material
Subject
promotional materials; GPK-10 (Computer); General Precision, Inc.; GPK-33 (Computer); L-90 Series (Computers); AN/ASN-24(G) (Computer); Kearfott Products Division; Digital computer: other; Military/Aerospace applications; Micor-Minac (Computer); GPK-20 (Computer); AN/ASN-24(V) (Computer)
Credit
Gift of Thomas J. Buckholtz and Helen T. Buckholtz