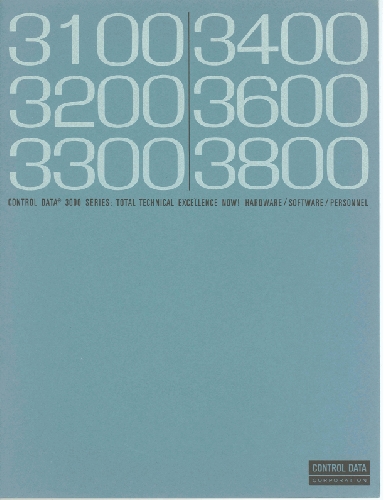 Title
Control Data 3000 Series: Total Technical Excellence Now! Hardware/Software/Personnel
Description
This brochure introduces the Control Data 3000 Series: the medium-scale 3100, 3200, and 3300 systems and the large-scale 3400, 3600, and 3800 systems. The brochure is on blue paper. The front cover, and the first and last inside page of tissue paper, lists the Control Data 3000 Series computers in large letters. Inserted into the brochure's centerfold are half-size pages with information about the computer system. Other inside pages show black and blue photographs of the computer system and people working at the computer with text explaining the photographs. The company logo is on the front cover, with the logo, domestic, and international locations on the back cover. Text contents include: Check these outstanding features in the 3000 Series of computer systems; Compatibility...where it counts; Peripheral equipment; Communication modules, data channels and peripheral controllers; Storage modules; Computation modules; Define your requirements...industrial scientific or commercial; Control Data 3000 Series software; Easy expandability...meets every need; Peripherals...complete selection of I/O devices; Dependability...the result of total technical excellence.
Date
1964-10
Publisher
Control Data Corporation (CDC)
Place of Publication
U.S.
Extent
12 p.
Dimensions
11 x 8 1/2 in.
Copyright Holder
Control Data Corporation (CDC)
Category
Promotional Material
Subject
promotional materials; Control Data 3200 (Computer); FORTRAN (Software); Control Data 3300 (Computer); Control Data 3800 (Computer); Control Data 3600 (Computer); Software; COBOL (Software); Digital computer: mainframe; Control Data Corporation (CDC); Control Data 3100 (Computer); Scientific applications; Control Data 3400 (Computer)