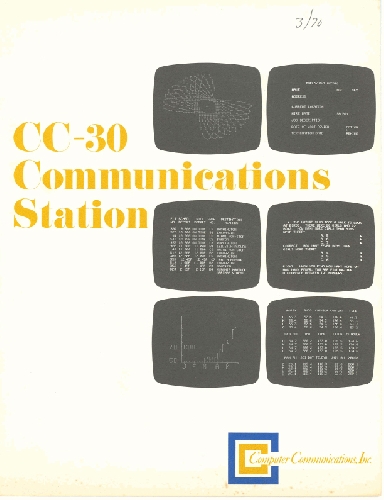 Title
CC-30 Communications Station
Description
This brochure introduces the CC-30 Communications Station, a low-cost input/output terminal designed for high-speed on-line access to a computer, and the CC-33, a teletype compatible display station. The front cover shows photographs of monitors with black screens with white lettering on a white background. The back cover shows diagrams of possible configurations for the CC-30 Communications Station. The brochure's centerfold opens up into 3 pages that give information about the hardware including black and white photographs. The company logo is on the front cover with their logo and domestic addresses on the back cover. Text contents include: Versatile, compatible, flexible, compact, portable; Color display capability; Optional Equipment; Powerful programming features; Unlimited configuration. The date 3/70 is written in pen in the upper right corner of the front cover.
Date
1970 ca.
Publisher
Computer Communications, Inc.
Extent
4 p.
Dimensions
11 x 8 1/2 in.
Copyright Holder
Computer Communications, Inc.
Category
Promotional Material
Subject
promotional materials; Computer Communications, Inc.; I/O: display; I/O: terminal / Teletype; I/O: printer; CC-33 Teletype Compatible Display Station (Computer); CC-30 Communications Station (Computer); I/O: keyboard
Credit
Gift of Thomas J. Buckholtz and Helen T. Buckholtz