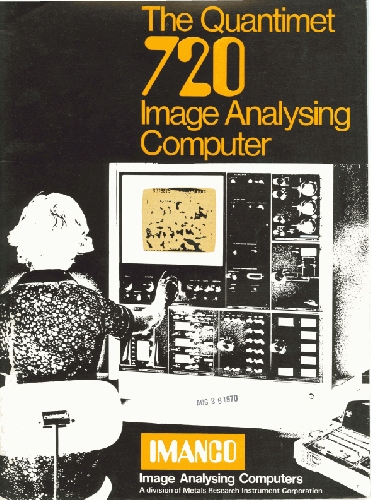 Title
The Quantimet 720 Image Analysing Computer
Description
A four color brochure for the Quantiment 720 Image Analysing Computer. The cover features a picture of a woman using the 720 and a date stamp for August 26, 1970. The inside cover includes a table of contents and another picture of a woman using the 720. The brochure is divided into the following sections: "Advances in image analysis technology in the Quantiment 720;" "Design," "Performance;" "Applications;" "References;" "Operating Principle;" "Description and system schematic;" "Choice of the most cost effective 720 system; and "Specification." Pages 3 and 4 feature examples of the 720's counting and sizing modes, guard region, and digital picture point concept. Pages 8 - 10 list the applications of the 720 in areas such as materials science, life sciences, and other disciplines. A chart of the 720 system is included on page 11 and a chart of the system schematic is featured on page 13. Technical specifications are included in the brochure.
Date
1970
Publisher
Image Analysing Computers Ltd.(IMANCO)
Place of Publication
U.S.
Extent
16 p.
Dimensions
11 x 8 1/4 in.
Copyright Holder
Metals Research Instrument Corporation
Category
Promotional Material
Subject
promotional materials; Quantimet 720 (Computer); Digital computer; 720 Vidicon Image Scanner (Scanner); Scientific applications; Educational applications; I/O: scanner; Metals Research Instrument Corporation; Image Analysing Computers Ltd. (IMANCO); 720 Plumbicon Image Scanner (Scanner)
Credit
Gift of Thomas J. Buckholtz and Helen T. Buckholtz