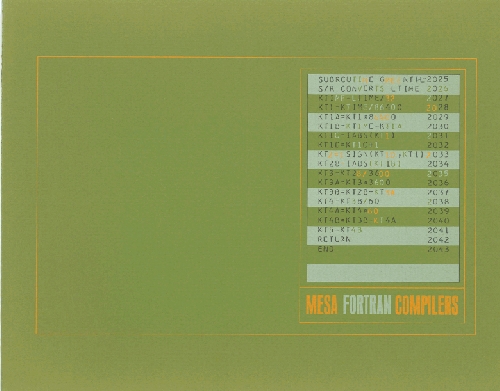 Title
Mesa Fortran Compilers
Date
1975

Planning Research Corporation. Mesa Scientific Corporation Division

U.S.

4 p.

8 1/2 x 11 in.
Copyright Holder
Planning Research Corporation
Description
A four color brochure for Mesa FORTRAN Compilers. The cover features a subroutine over a green background. The brochure begins with an explanation of FORTRAN and elaborates on the Mesa compiler's efficiency. Subsections include information on Mesa's compilers taking advantage of computer operating characteristics; advanced technical features; Mesa customer service; compatibility with several computer systems; and Mesa's background in software implementation. Specifications for the Mesa compiler's "High Compiling Speeds" is also included. The Mesa FORTRAN compilers are featured in computer systems such as Advanced Scientific Instruments ASI-6020, ASI-6040; Bunker Ramo BR-340; Computer Control Company DDP-116, DDP-24, DDP-224; Philco CXPQ; Systems Engineering Laboratories SEL-810, SEL-840; UNIVAC 418 and UNIVAC 490. Technical specifications are included in the technical summary on page 4.
Category
Promotional Material
Subject
promotional materials; Mesa Scientific Corporation; Mesa FORTRAN Compilers (software); Software; Scientific applications; FORTRAN (Computer program language); Planning Research Corporation; Compiling (Electronic Computers)
Credit
Gift of Thomas J. Buckholtz and Helen T. Buckholtz