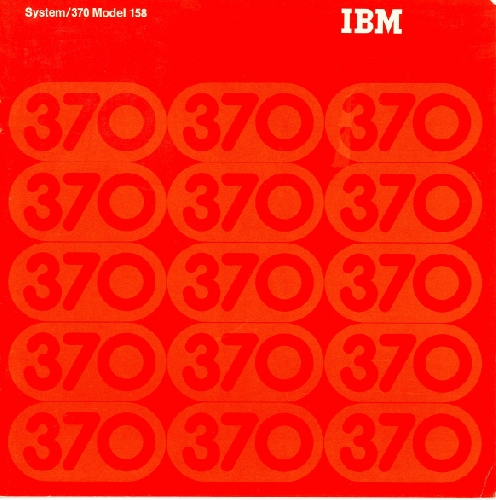 Title
IBM System/370 Model 158
Description
The brochure promotes the IBM System/370 Model 158 as an advancement on the Model 155. The front cover of the brochure is orange and shows 370 in a repetitive pattern; the back cover is white and shows the company logo and address. Throughout the brochure are full page, black and white photographs of people using the computer in office settings. Text contents include: Continuing the logical evolution to greater function, higher performance; A most significant development; The advantages of virtual storage; In again, out again without special programming; Keeping pace with growth; Smooth upward transition; Features that enhance performance; Integrated attachment of diret access storage; Other valuable features; New system control programming; What system control programming does; A boon to programmers; Another new operating system; From one computer many; Get ready for the years ahead.
Date
1972
Publisher
International Business Machines Corporation (IBM)
Place of Publication
U.S.
Extent
8 p.
Dimensions
8 1/8 x 8 1/8 in.
Copyright Holder
International Business Machines Corporation (IBM)
Category
Promotional Material
Subject
International Business Machines Corporation (IBM); Scientific applications; Model 158 (Computer); Digital computer: mainframe; Model 155 (Computer); promotional materials; Business applications