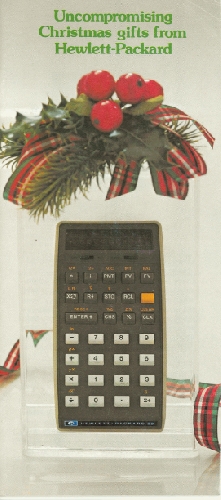 Title
Uncompromising Christmas Gifts from Hewlett-Packard.
Date
1975-11
Publisher
Hewlett-Packard Company (HP)
Place of Publication
U.S.
Extent
22 p.
Dimensions
8 1/2 x 3 3/4 in.
Copyright Holder
Hewlett-Packard Company (HP)
Description
The brochure promotes the HP Scientific Pocket Calculators for ideal Christmas gifts based on their high quality, incredible problem solving power, and programmability. The brochure is printed full color on white paper. The full page, color photograph covering the front and back covers has a Christmas theme showing Christmas decorations and featuring the HP-22 as the ideal gift. The back cover shows the company logo and the name Donald G. McBrien stamped at the bottom. The inside back cover page shows a guide to all Hewlett-Packard pocket-sized computer calculators advertised in this brochure: the 21, 45, 15, 55, 65, 22, and 80. Throughout the brochure each calculator is discussed in detail giving features, instructions, prices, and a full color photograph. Text contents include: All Hewlett-Packard pocket calculators offer uncompromising quality.; Hewlett-Packard pocket calculators also offer incredible problem solving power, using the most efficient logic system ever devised.; The uncompromising HP-21 packs more power into a smaller case.; Our uncompromising HP-45 advanced scientific calculator remains the industrial standard.; Now almost anyone can enjoy the speed, accuracy, and computational power of programmability with the uncompromising Hewlett-Packard calculator.; Our uncompromising HP-25 scientific programmable calculator gives you keystroke programmability at a remarkable price/performance ratio.; uncompromising HP-55 advanced scientific programmable calculator offers a unique combination of power and versatility.; Hewlett-Packard presents a small miracle: the uncompromising HP-65 fully programmable pocket calculator.; When you buy an HP calculator, you get more than just a calculator.; A buyer's guide to Hewlett-Packard pocket-sized computer calculators. Hand written in pencil on page 10 is the following: Sharp Comput Estimate EL-8109 $49.95.
Category
Promotional Material
Subject
HP-25 (Calculator); Hewlett Packard (HP); HP-45 (Calculator); HP-22 (Calculator); HP-80 (Calculator); HP-65 (Calculator); HP-21 (calculator); Educational applications; Calculator: electronic; Scientific applications; promotional materials; HP-55 (Calculator)