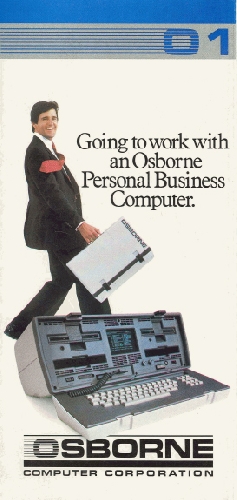 Title
Going to Work with an Osborne Personal Business Computer
Date
1981

Osborne Computer Corporation

10 p.

8 x 3 3/4 in.
Copyright Holder
Osborne Computer Corporation
Description
The brochure features the Osborne 1 as a personal business computer that is portable. The full color brochure opens to show a full page color photograph of the computer with labels explaining computer features and then opens up further to show in the centerfold details about the computer and a color photographs of someone carrying the computer. The front and back covers shows the company logo and a color photographs of the computer and a person demonstrating the computer's portability on the front and a list the computer's standard and optional features on the back. Text contents of the brochure include: Going to work with an Osborne means getting more done.; The Osborne 1 at a glance.; Osborne 1 standard features; Osborne 1 optional features.
Category
Promotional Material
Subject
Osborne Computer Corporation; CBASIC (Software); Personal applications; SUPERCALC (Software); MBASIC (Software); WORDSTAR (software); Osborne 1 (Computer); Business applications; Software; Digital computer: portable / luggable; promotional materials; CP/M (Software)