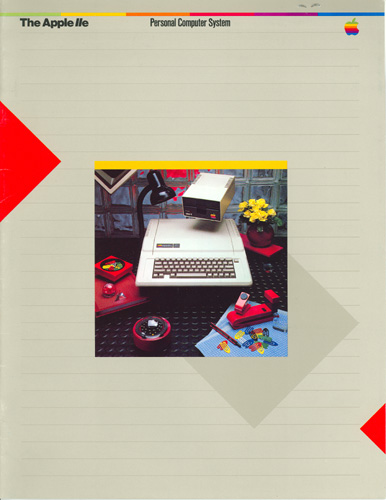 Title
The Apple IIe Personal Computer System
Description
The brochure features the Apple IIe as a personal computer with more software programs available than any other computer. The brochure is printed on gray paper and shows full color photographs of people working on the Apple IIe in various settings, such as in the workshop, in the laboratory, in the classroom, in the office, at home. The front cover shows a color photograph of the Apple IIe; the back cover shows the Apple logo and addresses of domestic offices. The business card for Steven C. Vice, Computerland, is stapled to the inside of the front cover. The brochure's text contents include: Who in the world uses the Apple. And why.; What you can do better than ever before. And how.; The Apple IIe--the most versatile personal computer in its class.
Date
1982-11
Publisher
Apple Computer, Inc.
Place of Publication
U.S.
Extent
14 p.
Dimensions
11 x 8 1/2 in.
Copyright Holder
Apple Computer, Inc.
Category
Promotional Material
Subject
Apple Computer, Inc.; Pascal (Software); SuperPILOT (Software); BASIC (Software); Personal applications; CP/M (Software); Apple IIe (Computer); Digital computer : personal; Software; promotional materials; Logo (Software)