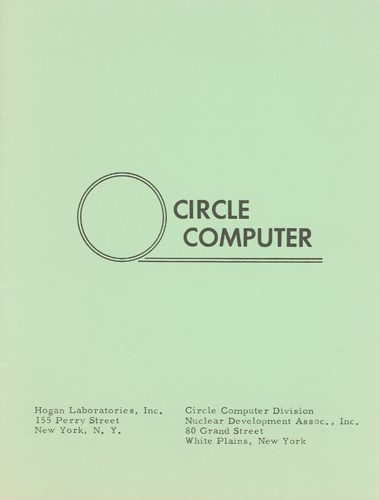 Title
Circle Computer: The low-cost general-purpose computer for science and industry.
Description
The brochure introduces the Circle Computer as a low-cost computer flexible enough to solve most engineering and research problems. The brochure is printed in manuscript style in black and white on white paper with a green jacket which shows a large circle, the Circle Computer, and the names and addresses of the companies that developed the Circle. The first page of the booklet shows a black and white photograph of the Circle Computer; the last page provides room for Notes. The brochure contents discuss the physical features of the Circle with Figures showing black and white photographs of computer hardware and an Appendix providing a list of operating commands. Text contents include: The Circle Computer; Uses of the Circle Computer; Physical construction features; Circuit design features; Logical design features; Memory; Communication; Services to users; Appendix I; and Notes.
Date
1953
Publisher
Nuclear Development Associates, Inc.
Extent
12 p.
Dimensions
8 3/8 x 6 3/8 in.
Copyright Holder
Nuclear Development Associates, Inc.
Category
Promotional Material
Subject
Circle Computer Division; Hogan Laboratories, Inc.; Nuclear Development Associates, Inc.; Digital computer: other; Circle Computer (Computer); promotional materials; Scientific applications