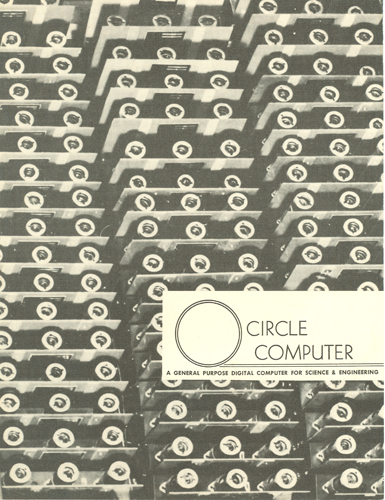 Title
Circle Computer: A General-purpose Digital Computer for Science & Engineering.
Date
1953
Publisher
Nuclear Development Associates, Inc.
Extent
2 p.
Dimensions
11 x 8 1/2 in.
Copyright Holder
Nuclear Development Associates, Inc.
Description
The brochure introduces the Circle Computer as a low-cost computer flexible enough to solve most engineering and research problems. The brochure is printed in black and white on white paper with the company logo on the back cover . The front cover background is a repetitive pattern of circles made from a black and white closeup photograph of computer hardware. The circle as a design motif continues on the centerfold page where the computer's logical characteristics are listed in a large black circle. Black and white photographs in the centerfold show the Circle and its accessories. Text contents include: The Circle Computer; Equipment; Logical characteristics of the Circle Computer; Special services; Customer convenience.
Category
Promotional Material
Subject
Circle Computer Division; Hogan Laboratories; Nuclear Development Associates, Inc.; Digital computer: other; Circle Computer (Computer); promotional materials; Scientific applications