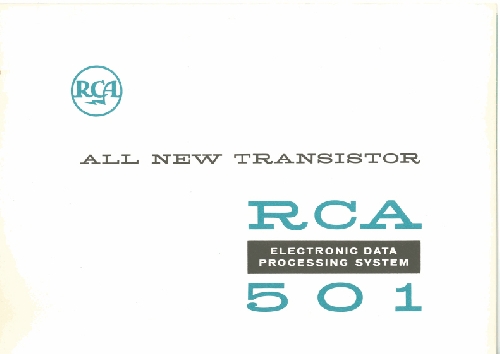 Title
All New Transistor RCA 501 Electronic Data Processing System
Description
The brochure introduces the RCA 501 as performing a full range of tasks at low unit cost. The brochure is printed in blue and black on white paper. The brochure opens like a calendar making a three-page centerfold. The front and back cover pages are plain white with title and company logo on the front and logo on the back. The inside pages show black and white photographs of people using the computer, one full page on a blue background. Text contents include: Business-oriented; Adaptable; Fast; All transistor design; Building-block principle; Automatic; Accurate; Completely variable recording; Service; Confidence.
Date
1958-05
Publisher
RCA Corporation. Electronic Data Processing
Place of Publication
U.S.
Extent
4 p.
Dimensions
8 1/2 x 11 in.
Copyright Holder
RCA Corporation. Electronic Data Processing
Category
Promotional Material
Subject
promotional materials; Business applications; Digital computer: mainframe; RCA Corporation. Electronic Data Processing; RCA 501 (Computer)
Credit
Gift of Thomas J. Buckholtz and Helen T. Buckholtz