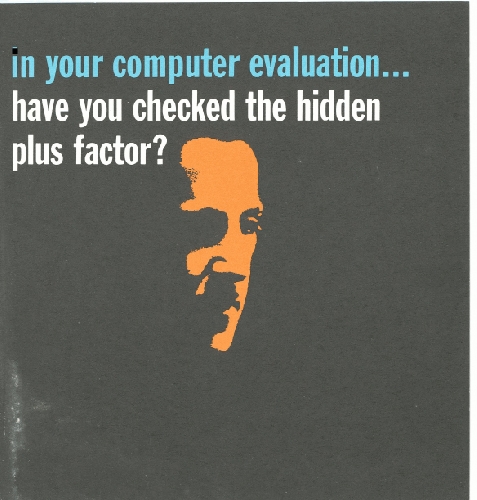 Title
In your computer evaluation...have you checked the hidden plus factor?
Description
The brochure introduces the Bendix G-15 computer as supplying superior performance, real economy, and proven support. The brochure is printed in black, orange, and blue, the front cover being black with an orange face in shadow appearing at the center. The back cover is white with a black and white photograph of the G-15 and the company logo. The centerfold right side is blue and shows quotes from newspapers and images of newspaper headlines all extolling the G-15 computer. Text contents include: With the Bendix G-15 computer, it's experience; Application reports available.
Date
1955
Publisher
Bendix Corporation. Computer Division
Extent
2 p.
Dimensions
8 1/2 x 8 in.
Copyright Holder
Bendix Corporation. Computer Division
Category
Promotional Material
Subject
Educational applications; Business applications; Bendix Corporation. Computer Division; G-15 (Computer); promotional materials; Digital computer: minicomputer