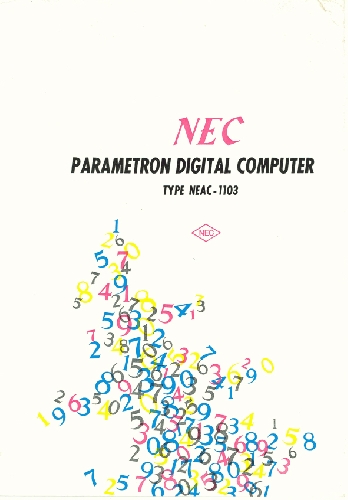 Title
NEC Parametron Digital Computer: Type NEAC-1103
Description
The brochure introduces the NEAC-1103 as an improvement on the NEAC-1102 parametron digital computer built by Nippon Electric Company. The brochure opens up into a three page centerfold on which is a black and white drawing of the computer, examples of instruction codes, and lists of general characteristics and features of the computer. The front cover shows an abstract design of numbers in multicolors. The back cover shows a drawing of the Nippon Electric factory, the company logo and address in Toyko, Japan. Text contents include: Instruction codes; Summary of characteristics of type NEAC-1103 parametron digital computer; Features.
Date
1958
Publisher
Nippon Electric Company, Ltd. (NEC)
Place of Publication
[Japan]
Extent
4 p.
Dimensions
11 6/8 x 8 2/8 in.
Copyright Holder
Nippon Electric Company, Ltd. (NEC)
Category
Promotional Material
Subject
NEAC-1102 (Computer); promotional materials; Nippon Electric Company, Ltd. (NEC); Digital computer: mainframe; NEAC-1103 (Computer)