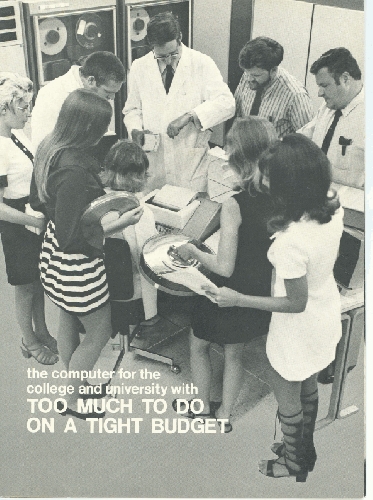 Title
The computer for the college and university with too much to do on a tight budget
Description
The brochure introduces the Systems 72 computer for colleges and universities. The front cover shows a full page, black and white photograph of students and professor gathered around the computer. The back cover shows the company logo and addresses of domestic and international offices on a white glossy background. The brochure opens up to three centerfold pages which show full page black and white photographs of students and faculty using the computer. Text contents include: Let's face it!; You need an exceptional computer; Systems 72 does the job within your budget; Time sharing with an in-house system; Instant access to problem-solving power; Capabilities for all fields of endeavor; Large-system power at lower cost; Advanced hardware in all areas; Versatile programming; Operating systems geared to your needs; The system to handle your level of work; Wide choice of peripherals; What to know more?.
Date
1972
Publisher
Systems Engineering Laboratories (SEL)
Place of Publication
U.S.
Identifying Numbers
| | |
| --- | --- |
| Other number | 316000021000 |
Extent
4 p.
Dimensions
11 x 8 2/8 in.
Copyright Holder
Systems Engineering Laboratories (SEL)
Category
Promotional Material
Subject
promotional materials; Fortran IV (Software); Systems Engineering Laboratories; Fixed-application digital computer; Scientific applications; BASIC (Software); Systems 72 (Computer); Educational applications
Credit
Gift of Thomas J. Buckholtz and Helen T. Buckholtz