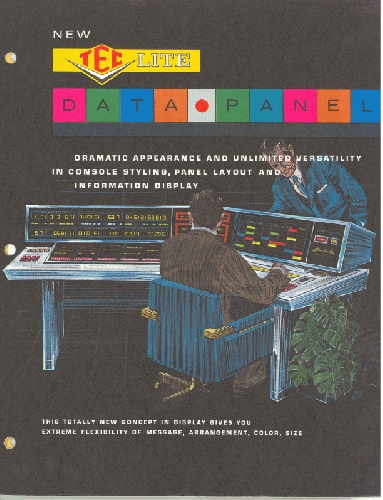 Title
New TEC Lite Data Panel
Description
The brochure introduces the TEC Lite Data Panel as a console and panel design with display, visual, color, and application versatility. The brochure is in full color printed on white paper, hole punched for a 3-ring binder, and has a pocket on the inside back cover that contains 7 pages of addditinal information about the product . The front and back covers show color drawings of the TEC Lite Data Panel on a black background, people working at the TEC Lite, and the company logo. Throughout the inside pages are color photographs of people working at the TEC Lite, TEC Lite hardware, labeled diagrams of component parts, color photographs of the TEC facility and workers building the product. Text contents of the brochure include: A new, low cost concept that combines display versatility and outstanding appearance; Versatility of visual display; Mechanical-electrical versatility; Mechanical specifications; Electrical specifications. Additional information about the product includes 3 individual pamphlets. One, titled "Custom Designed or Standard TEC Lite Indicting Devices," is 2 pages showing black and white photographs of the wide range of TEC Lite indicators and 2 pages on which the customer can supply information about ordering the producs. Three more are printed on yellow paper are hole punched for a 3-ring binder. One, titled "Design Specification Sheet," is a 3-page order form on which the customer indicates electrical, visual display, layout and dimension, and readout specifications. Two more, titled "Standard Electrical Specifications" and "Typeface Specifications Chart," provide reference information and black and white photographs of component parts useful in ordering the product.
Date
1964-01
Publisher
Transister Electronics Corporation
Place of Publication
U.S.
Extent
6 p.
Dimensions
11 x 8 3/4 in.
Copyright Holder
Transister Electronics Corporation
Category
Promotional Material
Subject
I/O: console / panel; Transister Electronics Corporation; TEC Lite Data Panel (Console/Panel); promotional materials
Credit
Gift of Thomas J. Buckholtz and Helen T. Buckholtz