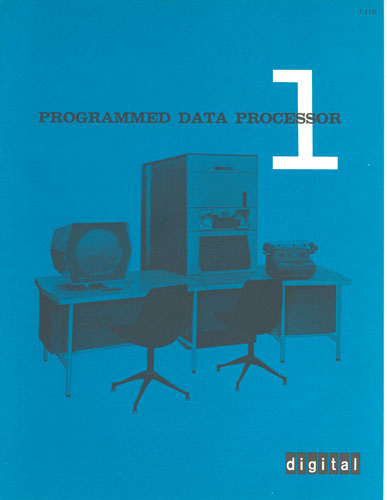 Title
Programmed Data Processor 1
Description
A four color brochure for the PDP-1. The cover has a blue background, with a picture of the PDP-1 under the title "Programmed Data Processor 1." Pages 1 and 2 explain the features and uses of the PDP-1. The brochure includes the following subsections: "Standard PDP-1;" "Central Processor Options;" "Programming PDP-1;" "Programming Aids;" "Input-Output Logic;" and "Input-Output Options." There is a chart on page 2 that displays the computer's setup. There are also several pictures of men using the PDP-1 and its peripherals, such as the Precision CRT Display, Type 30; Light Pen, Type 32; Programmed Magnetic Tape Control, Type 51; and Card Punch Control, Type 40. A list of PDP-1 Instructions is given on pages 3 and 4.
Date
1963
Publisher
Digital Equipment Corporation (DEC)
Place of Publication
U.S.
Extent
6 p.
Dimensions
11 x 8 1/2 in.
Copyright Holder
Digital Equipment Corporation (DEC)
Category
Promotional Material
Subject
promotional materials; Punched card systems; Business--Data processing; I/O: pointing: lightpen; I/O: display: CRT; I/O: punched card; I/O: printer; PDP-1 (Computer); Digital Equipment Corporation (DEC); Digital computer: minicomputer
Credit
Gift of Thomas J. Buckholtz and Helen T. Buckholtz