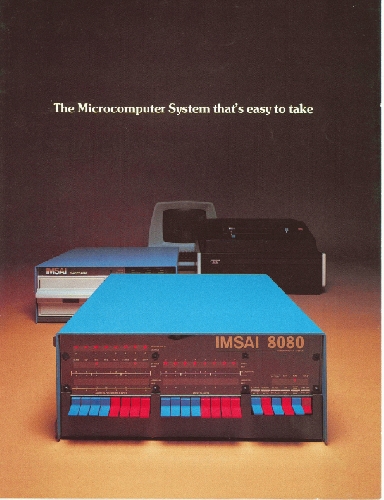 Title
The Microcomputer System that's easy to take
Description
A four color brochure for the IMSAI 8080 computer. The cover features a picture of the 8080, the floppy disk system, and a monitor, all under the title "The Microcomputer System that's easy to take." The first page begins with the heading "IMSAI 8080 Value, Quality, Simplicity." The second page offers information on the inherent value and quality of the 8080 and its peripherals. The brochure also explains the simplicity of ordering a fully assembled 8080 or purchasing the economical kit version and assembling the computer yourself. The back cover has information about the "Unique Intelligent Breadboard System" and "The Economical IMSAI 8080 Intelligent Floppy Disk System." Technical specifications are included on the back cover. There are several pictures of the 8080 and its peripherals in the brochure. On page 1, a picture of the 8080 is surrounded by three yellow and orange boxes. Each box is filled with a list of features and peripherals.
Date
1976
Publisher
IMS Associates, Inc. (IMSAI)
Place of Publication
U.S.
Extent
2 p.
Dimensions
11 x 8 1/2 in.
Copyright Holder
IMS Associates, Inc.
Category
Promotional Material
Subject
promotional materials; Microcomputers; Digital computer : personal; IMSAI 8080 (Computer); IMS Associates, Inc. (IMSAI)