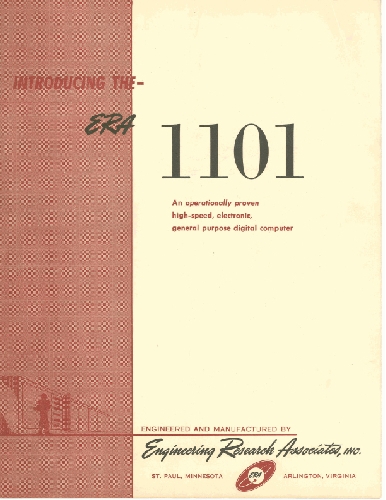 Title
Introducing the ERA 1101
Description
A four color brochure for the ERA 1101 computer. The cover is divided into white and red sections with the heading "Introducing the ERA 1101: An operationally proven high-speed, electronic, general purpose digital computer." In the lower left-hand corner, there is a drawing of a man silhouetted against the 1101. The history of the 1101 is given on page 1, along with a chart showing how "coded problems" are solved. Subsections of the brochure include "Description;" "Using the Computer;" and "Maintenance." Pages 3 and 4 list the 1101's peripherals. There is a numbered diagram showing the layout of the 1101 and where the peripherals will be located. Pictures of the peripherals and their names are scattered underneath the diagram. There are a few pictures and drawings of the 1101 and its components included in the rest of the brochure. The back cover features a summary of the 1101's characteristics.
Date
1951
Publisher
Engineering Research Associates (ERA)
Place of Publication
U.S.
Extent
6 p.
Dimensions
11 x 8 1/2 in.
Copyright Holder
Engineering Research Associates (ERA)
Category
Promotional Material
Subject
promotional materials; Punched card systems; Electronic digital computers; Digital computer: mainframe; Military/Aerospace applications; ERA 1101 (Computer); Engineering Research Asscociates (ERA); Scientific applications