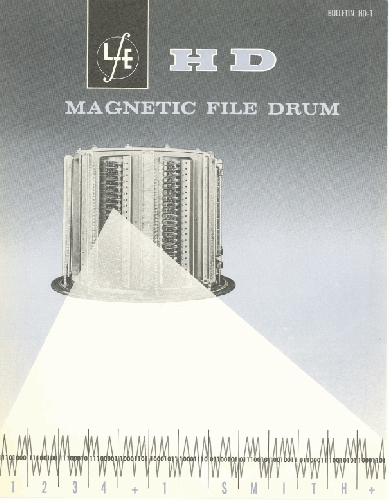 Title
HD Magnetic File Drum
Description
The brochure presents the HD Magnetic File Drum as a compact storage unit that provides rapid access to stored data. The brochure is printed in blue and black on slightly waffled light-weight paper. The front cover shows a black and white photograph of the HD intersecting an abstract geometric design. The back cover shows the company's logo and a list of product specifications on a blue background. The centerfold shows black and white photographs of the HD on a blue and white background. The name Donald G. McBrien is stamped at the top of the inside page. Text contents include: HD...the file drum for reliable low-cost, high-density storage; Specifications.
Date
1957-09
Publisher
Laboratory for Electronics (LFE)
Place of Publication
U.S.
Extent
2 p.
Dimensions
10 6/8 x 8 1/2 in.
Copyright Holder
Laboratory for Electronics (LFE)
Category
Promotional Material
Subject
promotional materials; Memory: drum; Laboratory for Electronics (LFE); HD Magnetic File Drum (Hardware)