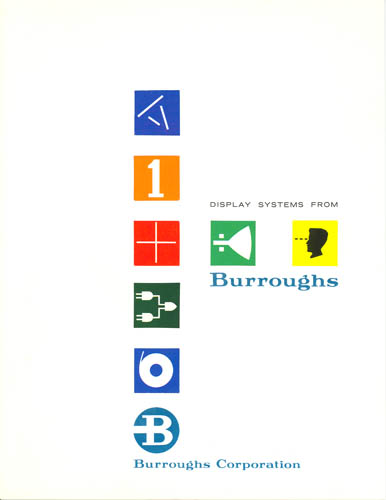 Title
Display Systems from Burroughs
Description
The brochure introduces display systems from Burroughs, ranging from command and control displays to monitor displays to microfilm displays, and provides a double page of photographs, diagrams, maps, texts and lists of specifications for each display system. The brochure is printed in full color on white glossy paper, but all photographs are black and white. Photographs on inside pages show images of the display systems, people working with the systems in office settings, and images of display output. The front cover shows the company logo and has square cutouts through which appear system modules printed in full-color on the inside first page. The motif of full-color disgrams of system modules is displayed on each page. The back and inner cover has the company address. Text contents include: Information display; Command and control displays; Message handling displays; Information recovery and entry displays; Group displays; Monitor displays; Microfilm displays; Inquiry and subscriber display; Display indicators.
Date
1965
Publisher
Burroughs Corporation
Place of Publication
U.S.
Extent
18 p.
Dimensions
11 1/8 x 8 1.2 in.
Copyright Holder
Burroughs Corporation
Category
Promotional Material
Subject
I/O: display: CRT; Graphics applications; Burroughs Corporation; promotional materials
Credit
Gift of Thomas J. Buckholtz and Helen T. Buckholtz