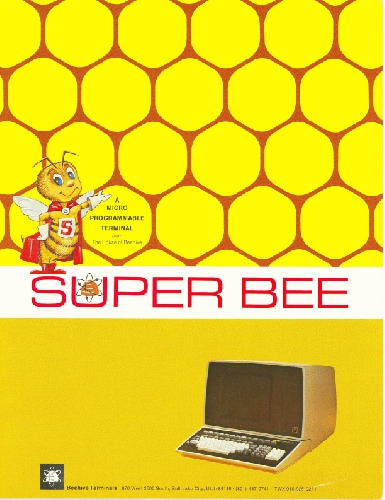 Title
Super Bee: A micro programmable terminal from The House of Beehive
Description
The brochure introduces the Beehive Super Bee as a micro-processor terminal suited to applications such as airline reservations systems or educational instruction. The brochure is printed in full color on glossy white paper. The front cover shows the company logo, a color photograph of the Super Bee terminal, and the Super Bee mascot, a bumble bee with a superman cape, all on a yellow background some of which has a honey combs pattern. The Super Bee mascot and the company logo are also on the back cover in addition to the address and a list of specifications. Inside pages show color photographs of Super Bee terminals always against a yellow background with the Super Bee mascot popping up occasionally. Color photographs of people working at Super Bee terminals and diagrams of keyboard layouts are also displayed. A perforated Business Reply Mail postcard is attached to the back cover with the company address on one side and space for the respondent's name and address on the other. Text contents include: We invite you to compare cost and features of the Super Bee with any terminal on the market; The Beehive Super Bee; I/O functions; Display functions; Cursor controls; Options; Super Bee standard keyboard layout; Super Bee specifications.
Date
1978
Publisher
Beehive International
Place of Publication
U.S.
Extent
6 p.
Dimensions
11 x 8 1/2 in.
Copyright Holder
Beehive International
Category
Promotional Material
Subject
Beehive Terminals; I/O: terminal / Teletype; Business applications; Beehive International; Beehive Super Bee (Computer); promotional materials; Educational applications