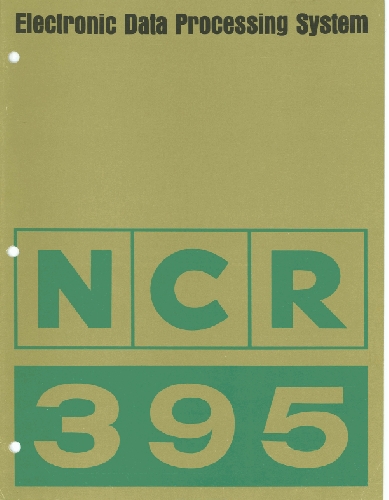 Title
NCR 395 Electronic Data Processing System
Date
1968 - 1969

National Cash Register Company (NCR)

U.S.

10 p.

11 x 8 1/2 in.
Copyright Holder
National Cash Register Company (NCR)
Description
The brochure introduces the 395 Electronic Data Processing System as designed with the capability of processing a variety of data. The brochure is printed in full color with every odd page showing full page, two color photographic close ups of 395 hardware, 395 output products, and drawings of people in business settings, and every even page showing a color photograph of people working at the 395 computer. The front and back covers are green and show the company logo in large green print on the front. Text contents include: Management oriented; Investment oriented; System oriented; Operator oriented; Consultation; Programs; Installation; Service and maintenance. The brochure is hole punched for a 3-ring binder.
Category
Promotional Material
Subject
Business applications; Digital computer: desktop; National Cash Register Company (NCR); 395 Electronic Data Processing System (Computer); promotional materials
Credit
Gift of Thomas J. Buckholtz and Helen T. Buckholtz