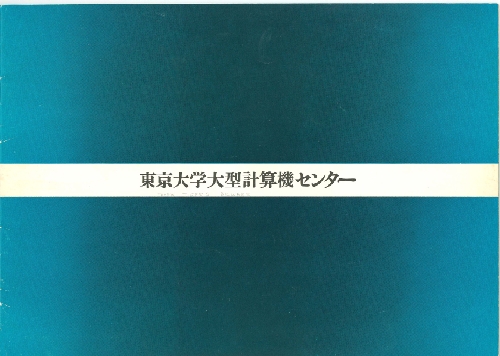 Title
Nihon Tokyo Daigaku Denshi Keisanki Senta University of Tokyo, Japan, Computer Center
Description
The brochure features the University of Tokyo's Computer Center through black and white photographs of buildings, computers, computer hardware and accessories, people working at computers in office settings, interiors of rooms, and portraits of people. The brochure is printed in two colors, blue and black except for the centerfold, which shows two, full page, color photographs of the HITAC 2050 mainframe computer and people working. Other pages show technical diagrams, schematics of the HITAC 2050, building and room floor plans all labeled in Japanese as is the text, and a stylistic map of Japan showing the locations of universities with computer centers. The front and back covers are solid blue and show the title in Japanese kanji and katakana. The back cover gives the title in English and the address in Japanese. The literal translation of Nihon Tokyo Daigaku Denshi Keisanki Senta is Japan, Tokyo University, Electron Calculator Center. The words "Paper Tigers Beware" is hand written in pencil below the title on the front cover.
Date
1964
Publisher
Tokyo, University of
Place of Publication
Japan
Extent
18 p.
Dimensions
8 1/4 x 11 5/8 in.
Copyright Holder
Tokyo, University of
Category
Promotional Material
Subject
Digital computer: mainframe; University of Tokyo; HITAC 5020 (Computer); promotional materials
Credit
Gift of Thomas J. Buckholtz and Helen T. Buckholtz