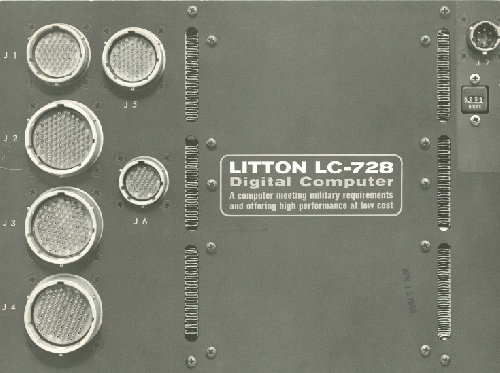 Title
Litton LC-728 Digital Computer: A computer meeting military requirements and offering high performance at low cost.
Date
1968
Publisher
Litton Industries
Place of Publication
U.S.
Extent
4 p.
Dimensions
7 5/8 x 10 1/4 in.
Copyright Holder
Litton Industries
Description
The brochure introduces the LC-728 as a low-cost, high-performance, general-purpose digital computer developed for aerospace avionics systems. The brochure is printed in black and white and opens up to a 3-page centerfold with the third page 2/3 size. The front cover shows a full page, black and white photographic close up of components on the LC-728 and has the date "Apr 18, 1968" stamped in the right lower corner. The back cover provides a list of LC-728 characteristics and shows the company logo and address. The centerfold pages alternate black and white, some showing full page, black and white photographs of the LC-828 and component parts. Text contents include: Construction features; Maintenance features; Specifications; Functional characteristics of the LC-728 computer.
Category
Promotional Material
Subject
Military/Aerospace applications; Fixed-application digital computer: military / aerospace; Litton Industries; LC-728 (Computer); promotional materials
Credit
Gift of Thomas J. Buckholtz and Helen T. Buckholtz