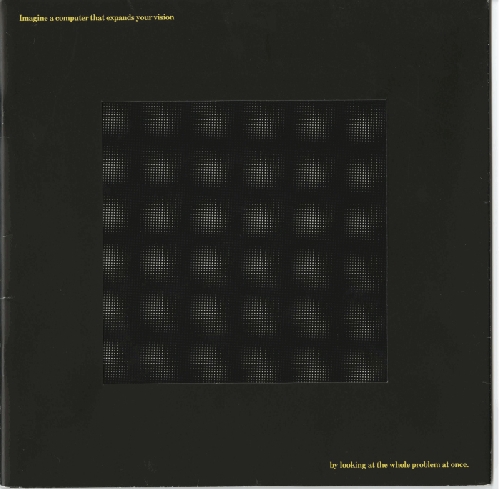 Title
Imagine a Computer That Expands Your Vision by Looking at the Whole Problem at Once.
Description
The brochure introduces the Connection Machine as a computer system that works on the whole problem at once by computing on every element of a data structure at the same time. The brochure is printed in black and white with every other page either entirely black or entirely white, except for a four-page fold out that shows full page, color photographs of output views from example applications, such as map images from space, images showing fluid dynamics, and VLSI simulations. The brochure is very stark and dramatic. The front cover is black and has a plastic covered cutout window, under which is a black and white optical pattern. When you move the plastic cover, the optical pattern changes creating new patterns, like a kaleidoscope. The back cover is also black with only the company's name and address in the left corner. Other pages show full page, black and white, abstract images generated by the computer. Text contents include: Example application: Words; Example application: Pictures; Example application: Numbers; Example application: Aggregate behavior; The future belongs to computers that look at the whole problem at once.
Date
1986
Publisher
Thinking Machines Corporation (TMC)
Extent
18 p.
Dimensions
9 1/2 x 9 1/2 in.
Copyright Holder
Thinking Machines Corporation (TMC)
Category
Promotional Material
Subject
Lisp (Software); Digital computer: supercomputer; Scientific applications; Thinking Machines Corporation (TMC); C (Software); Connection Machine (Computer); Software; promotional materials; Military/Aerospace applications