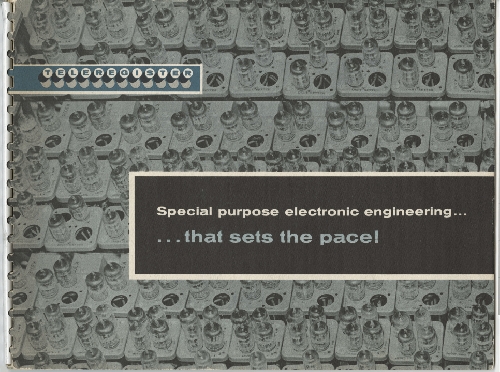 Title
Special Purpose Electronic Engineering...That Sets the Pace!
Description
The brochure introduces fixed application, special purpose, systems that are custom made to meet specific needs, such as airline and train reservations, warehouse automation, stock quote display boards, stock exchange bid and ask, and military applications. The brochure is printed in three colors, blue, yellow, and black on white paper and is spiral bound in white plastic at the left edge. The front cover shows a full page, black and white photographic closeup of vacuum tubes making a repetitive pattern that flows over to half of the back cover. The company logo is on both front and back cover. Throughout the inside pages products custom made for airline, railroad, financial, manufacturing companies, and government, are featured through schematic diagrams, black and white photographs, maps, flow charts, and company logos. Teleregister Corporation, its managing personnel, history, and invention milestones, is also featured. Text contents include: Special purpose systems; Pioneering since 1928; Teleregister experience, imagination and skill make the difference; Teleregister sets the pace in...Reservation systems; The American Airlines magnetronic reservisor; The United Airlines "Unisel"; New York Central Railroad "Centronic"; National Airlines availability system; Braniff International Airways reservisor system; Atchison, Topeka & Santa Fe Railroad reservisor system; New Haven Railroad magnetronic reservisor; Teleregister sets the pace in...Industrial inventory control; Teleregister sets the pace in...Warehouse automation; Teleregister sets the pace in...Automatic quotation displays; Teleregister sets the pace in...Toronto's bid-asked system; Teleregister sets the pace in...Government projects.

Date
1956
Publisher
Teleregister Corporation
Extent
24 p.
Dimensions
10 x 13 in.
Copyright Holder
Teleregister Corporation
Category
Promotional Material
Subject
Warehousing system (Computer); Ogden Corporation; Networked electronic quotation boards (Computer); Teleregister Corporation; Magnetronic inventory control system (Computer); Business applications; Reservation control system (Computer); Fixed-application digital computer: military / aerospace; Military/Aerospace applications; Fixed-application digital computer: industrial; promotional materials; Bid and asked system (Computer)
Collection Title
Company Collection