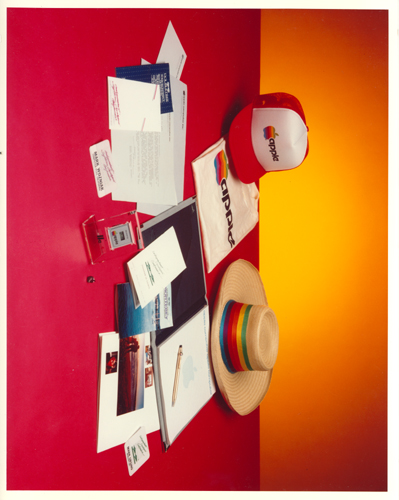 Title
Apple conference memorabilia
Description
Color still life photograph of memorabilia from an Apple independent developers conference. Arrayed on a red table are a red and white baseball cap with the Apple logo, a white t-shirt with an Apple logo, a straw hat with a rainbow band, an open notebook with Apple logo ruled paper, a gold pen, brochures for Monterey and the Doubletree hotel, name badges for Mark Wozniak and Mark Ursino, an apple-shaped pin and a clock with the apple logo and IIe at the bottom. The background is orange with light emanating from below the center of the table. There is a a white 1/4 inch border around the image.
Publisher
Apple Computer, Inc.
Dimensions
8 x 10 in.
Format
Photographic print
Copyright Holder
CHM AppleLore
Category
Still life photograph
Subject
Apple Computer, Inc.
Credit
Gift of CHM AppleLore