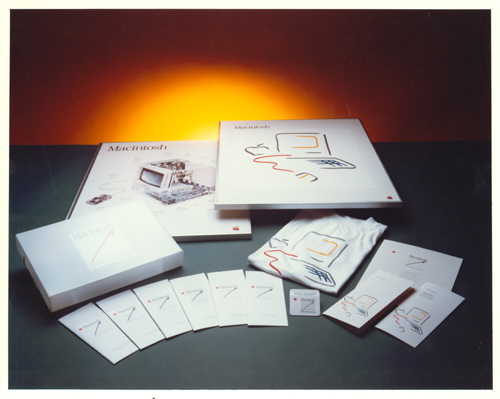 Title
Apple Macintosh ephemera
Description
Color still life photograph of Macintosh ephemera. Arrayed on a black table are two framed photographs, one VHS tape, one t-shirt, a name badge for Birtua McShane, one letter and two sets of brochures - one group of two over the letter and one group of six duplicates fanned out on top of one another. The background is orange with light emanating from below the center back edge of the table. There is a white 1/4 inch border around the main image.
Publisher
Apple Computer, Inc.
Dimensions
8 x 10 in.
Format
Photographic print
Copyright Holder
CHM AppleLore
Category
Still life photograph
Subject
Macintosh (Computer); Apple Computer, Inc.
Credit
Gift of CHM AppleLore