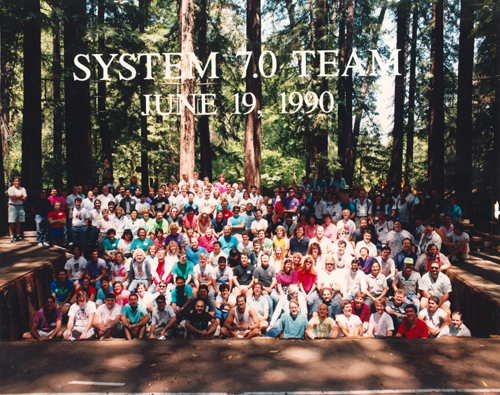 Title
Blue Macintosh Team
Date
1990-06-19
Publisher
Apple Computer, Inc.
Dimensions
8 x 10 in.
Format
Photographic print
Description
Color image of the Apple System 7.0 team. Over 100 people are pictured seated and standing in a sunken pit that is gradiated upward towards the back. The foreground is asphalt, the background is forested with redwood trees. The left edge of the photograph appears to have been miscut slightly and shows the edge of another photograph. Above the seated groups, in white letters, is: "System 7.0 Team, June 19, 1990." Verso lower right corner has a green sticker with the number 28 written in blue ballpoint ink pen.
Category
Group portrait
Subject
Apple Computer, Inc.
Credit
Gift of CHM AppleLore