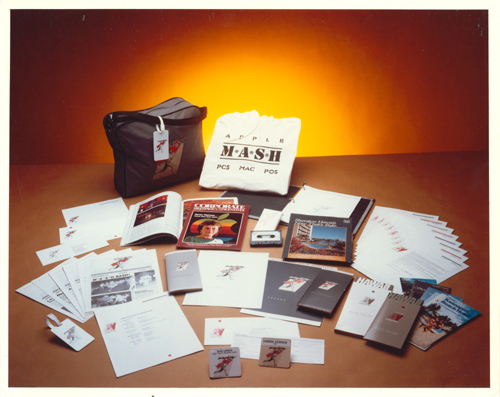 Title
Apple conference memorabilia
Description
Color still life photograph of memorabilia from an Apple international sales conference. The picture includes a tote bag, a a white sweathshirt with black text reading "Apple M*A*S*H PCS MAC PCS", a black three ring binder with papers, a "Corporate Meetings & Incentives" magazine, brochures for the Kaanapali Beach Hotel in Maui, travel brochures for Hawaii, agendas, newsletters, a cassette tape, a registration form and two name badges (for Bob Longo and Sabina Kerner). The logo for the conference is on a number of the materials and is a black and white image of a running man carrying a red flag. All items are arrayed on a brown table. The background is orange, with lighting coming from below the center of the table. There is a 1/4 in. white border on the picture.
Publisher
Apple Computer, Inc.
Dimensions
8 x 10 in.
Format
Photographic print
Copyright Holder
CHM AppleLore
Category
Still life photograph
Subject
Apple Computer, Inc.
Credit
Gift of CHM AppleLore