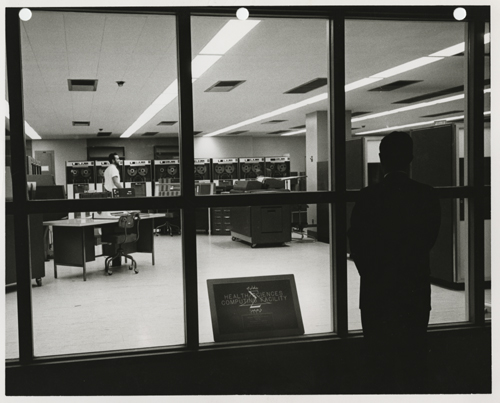 Title
IBM 7010 Data Processing System
Description
B&W, perspective view of IBM Computer System on a raised floor behind a large window. Eight Tape Storage units along back wall. Light tile, raised floor, recessed light ceiling with HVAC vents. Silhouette of man in suit looking into the computer center through the window at right side. Man in shirt sleeves walking from left across the raised floor in the computer room. Sign at the center foreground, just behind the window "Health Sciences Computing Facility ". Verso: "#1251" in black pencil, upper right corner. "PHOTOGRAPH BY LEIGH WIENER" stamped in black ink just above center. "1844-12-11" stamped in black ink, diagonally (lower left to upper right) just below the Leigh Wiener stamp.
Photographer
Wiener, Leigh
Publisher
International Business Machines Corporation (IBM)
Identifying Numbers
| | |
| --- | --- |
| Other number | #1251 |
| Other number | 1844-12-11 |
Dimensions
8 1/8 x 10 in.
Format
Photographic print
Category
Identification photograph; Publicity photograph
Subject
Computer industry--History; Computers--History; Electronic data processing--History
Credit
Courtesy of Gwen Bell