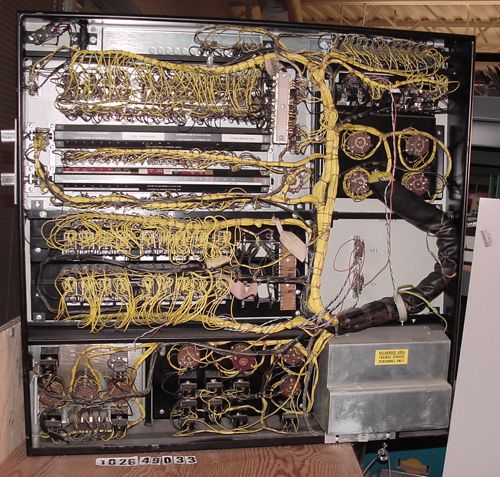 Title
System 360/40 control panel
Description
Object is the control panel from an IBM 360/40 with many rotary switches, toggle switches, and incandescent pilot lamps. This was the "face" of the mainframe although the system operator actually spent most time interacting with the console typewriter (not present). The control panel was used to boot the system, and by customer engineers to perform diagnostics.. On the back there are many elaborate wiring harnesses some of which have attached cloth labels showing the serial and E/C number and dates in 1967. Main wiring harness has been cut off flush when panel was removed from system.
Date
1964
Manufacturer
International Business Machines Corporation (IBM)
Identifying Numbers
| | |
| --- | --- |
| Other number | 5351614 cloth tag on wire bundle in back |
| Other number | 5374456 cloth tag on wire bundle in back |
Dimensions
26 x 27 1/2 x 5 1/2 in.
Category
I/O/console / panel