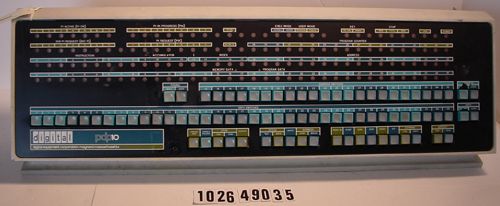 Title
PDP-10 Control panel
Description
Object is most of a control panel for a PDP-10, comprising many push-buttons and indicator lights within a black metal face-plate, enclosed in a metal housing. Some circuit boards remain behind the push-buttons, but the circuit boards that would have carried the indicator lights are gone.
Manufacturer
Digital Equipment Corporation (DEC)
Identifying Numbers
Other number
KL10 switchboard #1
KL10 switchboard #1 on solder side of circuit board in back
Serial number
1209690 REB cast into bottom rear frame
Dimensions
9 x 30 x 9 1/2 in.
Category
I/O/console / panel