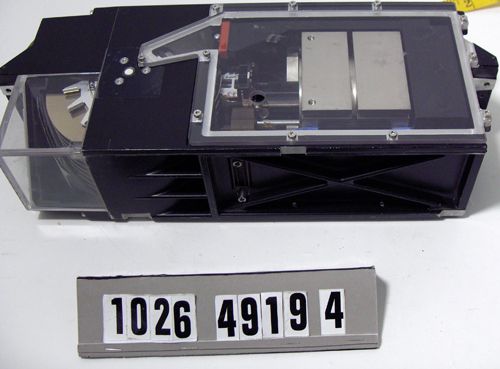 Title
Sawmill drive cutaway
Description
The Industry's First Hard Disk Drive (HDD) to Use Magnetoresistive (MR) Recording Heads

The industry's first MR recording heads were used in the 1.5 GB IBM 9345 (internal name Sawmill) 5 ¼ in. disk drive . This drive was developed between 1985 and 1990 at the IBM San Jose, CA product development laboratory. This program was sponsored by Jack Harker's IBM Fellow program and managed by Jim Makiyama. The principal goal was to design a potential follow on product to the IBM 3380 and IBM 3390 disk drives used for storing data in IBM mainframe computers.

In addition to leveraging MR heads, special attention was paid to all design details of the device to achieve a highly reliable product. For example, it did not conform to the standard 5 ¼ in. HDD form factor in order to accommodate a linear actuator, with a very robust base casting to minimize vibrations and thereby reliably achieve very fast access times . It was used on several IBM low end mainframe and specialized systems and was sold to NEC on an OEM basis.

Sawmill had modest unit sales over its life, but it turned out to be one of the most reliable HDDs in the history of the industry. Even though Sawmill demonstrated extraordinarily high reliability, several of its applications were in RAID environments where redundant drives provided significant additional reliability. Today's mission-critical data servers all utilize one of several RAID configurations.

Successful deployment of the MR heads in Sawmill required solving several significant unexpected problems that arose during the development of the heads as well as integration of the heads in the drive, surprises such as thermal asperities, shield-to-sensor shorting, excessive failures from corrosion, and electrical discharge-induced melting between the head and the disk. Based on solutions to these surprises Sawmill completed its development and qualification and shipped in 1990.

Text by Christopher H. Bajorek, PhD.
Submitted Dec 21, 2021.
Date
ca. 1991
Manufacturer
International Business Machines Corporation (IBM)
Place Manufactured
San Jose, Calif., U.S.
Identifying Numbers
| | |
| --- | --- |
| Model number | 9345 |
| Other number | 900223019 handwritTen on unit |
| Other number | 900223090 handwritten on unit |
| Other number | AA5Z00209 barcode on top of unit |
| Other number | D5587 etched into end of unit |
| Other number | mod 2 |
| Other number | VMC DV12 barcode on top of unit |
| Serial number | 49194 |
Dimensions
3 1/2 x 15 x 5 7/8 in.
Category
Memory/disk
Credit
Gift of the International Business Machines Corporation (IBM)